Dolcett
From Guro Wiki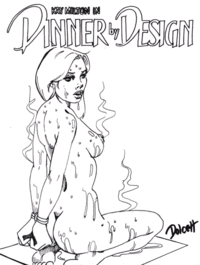 Dolcett is a sub-genre of guro that is centered around gynophagia (literally "woman eating"), a fantasy wherein a female person is cannibalized. Dolcett is named after the pseuodynym of a Canadian S&M fetish artist, who extensively wrote and illustrated comics involving gynophagia.
Dolcett almost always involves the 'cooking' of the recipient by various means, often involving open fires and opens, both before and after the death of the women. Bondage in the way of mimicking meat roasted over a fire such as tied-together limbs, or a spitroast (sometimes in the way of impalement), or being hung upside down similar to cattle in slaughterhouses is frequently featured.
World-building, when present, shows a casualization of the violence shown. Eating women as a means to curb overpopulation, severed body parts like thighs, breasts, buttocks, or vaginas (aptly called cunt filet in one comic) sold in supermarkets similar to the choice cuts of meat of pork or beef. Subjugation of the women involved is common, with frequent sexual slavery, human trafficking, auctions, mass-scale branding and butchering in the way of cattle, etcetera.
History
[
edit
]
In the 1990's, the artist Dolcett published various comics showing gynophagia. These proved popular enough with enthusiasts to have his name be synonymous with a unique brand of cannibal-based sexual fantasy.
In 2003, the forum Dolcett Girls was founded.
External links
[
edit
]